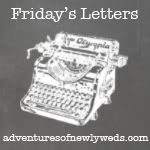 D
ear Husband
, I'm sorry you didn't get your day off today. But thank you for working so hard. Also, I'm excited about our date to Chow Baby tonight with our friends.
Dear Saturday
, I'm excited to finally get to dress up for Halloween. I am even more excited for Bama to kick LSU's butt on their own turf. We all know they have a hard time crossing over the 50.
Dear Sunday
, I'm excited that this is the day my little sister turns 21. We are celebrating in style by going on a local wine tour. (Expect a blog post!)
Dear November
, you're one of my favorite months of the year. I love getting to see all my family and friends. And well, I love the food!
Dear Monday
, please don't come too quickly.
Dear Fellow Americans
, please go vote. I won't tell you who to vote for, and I won't go into my political views, but its is our duty to vote. So go do it!
Dear Daylight Savings Time
, thank you.
Y'all have a good weekend!