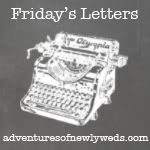 Dear Friday
, Thank you for coming so quickly this week. I am glad that you arrived with sunshine and the promise of a fun evening with some girl friends.
Dear Husband
, please hurry up and come home. You've been gone since Wednesday and I miss you something fierce. I really hate sleeping alone and you know I get bad dreams. Also please don't forget to bring me home a pretty magnet from Vegas.
Dear Weekend
, please go by slow. (After I get done with doing wedding hair at 2:00 of course.)
Dear Fall Weather
, please come back. Its been 70 degrees the past three days and I am not happy about it. I would like to wear my boots with out sweating my butt off.
Dear Georgia
, please beat the Florida Gators. They need to be knocked back down to earth and kicked out of 2nd in the BCS standings.
Dear Alabama
, go ahead and show Mississippi State how champions play football and give LSWHO something to be nervous about next Saturday.
Dear Clients
, please go ahead and make your appointments for the holidays. You don't realize how booked I already am and if you call last minute how long you may have to wait to get an appointment. So just go ahead and call. :)
Dear Cousin
, thanks for sharing this link up with me, it was fun!